Making Your Children Wishes to Come True
Most important where parent should take their minds is to their own children wishes, interests and hobbies. It's a bad idea to create room interior, which is best for parents or  carrying out children short future caprice. Need to know, that  wishes and minds changing as fast as toys, that children loves to play with. It's like a weekly lottery of his superstar theme party. One week he wants to have something with SpiderMan on his walls, other-Pokemons and so on and on… Produce Your interior depending on Your child's stuff, that he loves and feel happy being surrounded by and gives joy more than one week.
There are a lot of opportunities and here are some of them:
Racing cars
Sometimes, thinking about racing cars, most of parent visualize room like checked flag, fluttering at finish line, forgetting that it's a brilliant idea. Passed lot of time since You are able to get carpets with racing tracks on it. This could be a great place for Your child to play. Shops are now selling beds, which looks like a copy of a real racing car. Don't forget posters – calendars both with racing cars or/and drivers. There is a perfect place for a collection of his model cars in this room too.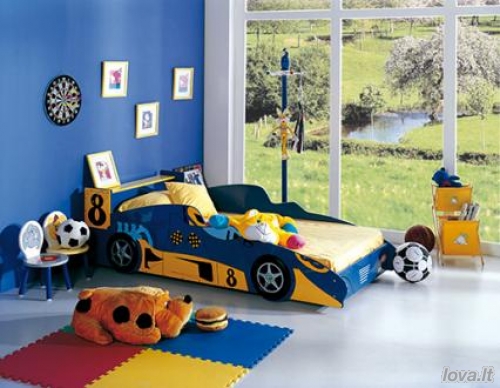 Racing cars room interior
Space
Space theme here we come! Round bed, silver, grey, dark blue colors are the most suitable stuff at this point. It could be combined with bright pastel or ivory tones. Stars and planets are the most common things You could paint on the walls and ceilings ( if You decide to draw it, first of all what You should do is to paint surface with one color). Furniture could be painted same as You did with Your walls. This will create solid and infinitive space impression. Furthermore, carefully select Your room lightning system, that area wouldn't be  to dark for Your little  spaceman. We offer You to install lot of small lamps into ceilings and shape of space ships lamps.
Space child room